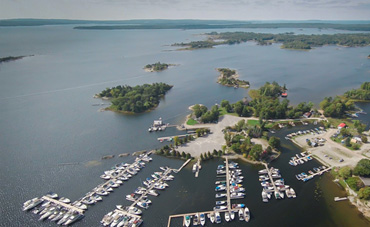 Brandy's Cove is located 1.5 hours north of Toronto in beautiful Honey Harbour, Ontario and is situated in an ideal location for any boater who appreciates spending more time at anchor and less time driving their boat. Only minutes from Beausoleil Island National Park and close to Georgian Bay's best boating destinations.
The marina is family owned and offers custom services to more than 100 vessels up to 55ft in length.
Our experienced mechanics are always prepared for any boating services that may be required and our highly-trained staff are available to provide best-in-class customer service.
Brandy's Cove continues to grow while delivering the friendliest service and essential amenities to make your boating experience one to remember!
Give us a call today! 705-756-9900.
Why Choose Brandy's Cove?
1
Location, Location, Location...
Brandy's Cove is just a short boat ride to the majority of Georgian Bay's premier boating destinations. Learn More...
2
Family Owned
The marina has been family owned since 1972. We take pride in getting to know all of our boaters and their specific needs!
3
Competitive Pricing
Starting at $3700, our full service packages are the best value on the bay! Learn More...
4
Premium Dockage
Brandy's Cove is situated in a protected, low traffic area with breathtaking views of Georgian Bay! Learn More...
5
Great Customer Service
Our staff takes pride in helping customers to and from their boats and are always available to assist when needed. Learn More...
6
Customer Rewards Program
Receive 2% back for every purchase at regular price. Start earning your Brandy Bucks today!